Tranexamic Acid

Tranexamic Acid

Prevents melanocyte (pigment cell) activation, initiation of melanogenesis (process that creates excess pigment in dark spots), and additional vascular development (pathogenesis of melasma)

Azelaic Acid

Azelaic Acid

Treats and prevents hyperpigmentation, smooths skin texture.

Niacinamide

Niacinamide

Interrupts pigment transfer from melanocytes to the upper layers of the skin where discoloration is visible, scavenges free radicals and helps to reverse oxidative damage, anti-inflammatory, refines pores and excess oil

Madecassoside

Madecassoside

Accelerates wound healing, fortifies the skin's barrier through collagen & fibronectin production, anti-inflammatory

Camellia Sinensis (Green Tea) Extract

Camellia Sinensis (Green Tea) Extract

Antimicrobial (combats bacterial colonization), anti-inflammatory, helps to reduce itch and inflammation
Full Ingredients
Like Butter—Water, Caprylic/Capric Triglyceride, Cetearyl Alcohol, Niacinamide, Diheptyl Succinate, Squalane, Glyceryl Stearate, Sorbitan Stearate, Capryloyl Glycerin/Sebacic Acid Copolymer, Glycerin, Pentylene Glycol, Shea Butter, Avena Sativa (Oat) Kernel Flour, Cetearyl Glucoside, Hydroxyethyl Acrylate/Sodium Acryloyldimethyl Taurate Copolymer, Evening Primrose Oil, Rheum Palmatum Root Extract, Angelica Polymorpha Sinensis Root Extract, Sodium PCA, Sodium Lactate, Arginine, Aspartic Acid, Serine, Sodium Hyaluronate, Astragalus Membranaceus Extract, Valine, Proline, PCA, Camellia Sinensis Leaf Extract, Ceramide EOP, Hydrogenated Lecithin, Ceramide NS, Ceramide NP, Ceramide AS, Ceramide AP, Cholesterol, Sucrose Distearate, Licorice Root Extract, Propylene Glycol, Threonine, Isoleucine, Turmeric Root Extract, Madecassoside, Palmitic Acid, Glycine, Alanine, Histidine, Xanthan Gum, Stearic Acid, Phenylalanine, Lauroyl Lysine, Phenoxyethanol, Ethylhexylglycerin

Faded—Water, Caprylic/Capric Triglyceride, Niacinamide, Tranexamic Acid, Shea Butter, Glyceral Stearate, Glycerin, Ceteareth-20, Ceteareth-12, Cetearyl Alcohol, Centella Asiatica Leaf Extract, Behenyl Alcohol, Alpha-Arbutin, Jojoba Seed Oil, Zinc Ricinoleate, Azelaic Acid, Glutathione, Kojic Acid Dipalmitate, Dimethylmethoxy Chromanyl Palmitate, Allantoin, Phytic Acid, Squalane, Palm Butter, Glycine, Soybean Sterols, Cetyl Palmitate, Lecithin, Trisodium Ethylenediamine Disuccinate, Sodium Lauroyl Sarcosinate, Licorice Root Extract, Melatonin, Turmeric Root Extract, Sclerotium Gum, Arginine, Cocos Nucifera Oil, Bisabolol, Tetrahydroxypropyl Ethylenediamine, Phenoxyethanol, Ethylhexylglycerin
*FYI: Faded contains exfoliating acids and niacinamide, and may cause some initial skin purging. Look for some texture, bumps, and/or whiteheads. This should not involve any irritation, inflammation, burning, or itchiness.*
See Glossary
X
See Key Ingredients
Full Ingredients
Like Butter—Water, Caprylic/Capric Triglyceride, Cetearyl Alcohol, Niacinamide, Diheptyl Succinate, Squalane, Glyceryl Stearate, Sorbitan Stearate, Capryloyl Glycerin/Sebacic Acid Copolymer, Glycerin, Pentylene Glycol, Shea Butter, Avena Sativa (Oat) Kernel Flour, Cetearyl Glucoside, Hydroxyethyl Acrylate/Sodium Acryloyldimethyl Taurate Copolymer, Evening Primrose Oil, Rheum Palmatum Root Extract, Angelica Polymorpha Sinensis Root Extract, Sodium PCA, Sodium Lactate, Arginine, Aspartic Acid, Serine, Sodium Hyaluronate, Astragalus Membranaceus Extract, Valine, Proline, PCA, Camellia Sinensis Leaf Extract, Ceramide EOP, Hydrogenated Lecithin, Ceramide NS, Ceramide NP, Ceramide AS, Ceramide AP, Cholesterol, Sucrose Distearate, Licorice Root Extract, Propylene Glycol, Threonine, Isoleucine, Turmeric Root Extract, Madecassoside, Palmitic Acid, Glycine, Alanine, Histidine, Xanthan Gum, Stearic Acid, Phenylalanine, Lauroyl Lysine, Phenoxyethanol, Ethylhexylglycerin

Faded—Water, Caprylic/Capric Triglyceride, Niacinamide, Tranexamic Acid, Shea Butter, Glyceral Stearate, Glycerin, Ceteareth-20, Ceteareth-12, Cetearyl Alcohol, Centella Asiatica Leaf Extract, Behenyl Alcohol, Alpha-Arbutin, Jojoba Seed Oil, Zinc Ricinoleate, Azelaic Acid, Glutathione, Kojic Acid Dipalmitate, Dimethylmethoxy Chromanyl Palmitate, Allantoin, Phytic Acid, Squalane, Palm Butter, Glycine, Soybean Sterols, Cetyl Palmitate, Lecithin, Trisodium Ethylenediamine Disuccinate, Sodium Lauroyl Sarcosinate, Licorice Root Extract, Melatonin, Turmeric Root Extract, Sclerotium Gum, Arginine, Cocos Nucifera Oil, Bisabolol, Tetrahydroxypropyl Ethylenediamine, Phenoxyethanol, Ethylhexylglycerin
*FYI: Faded contains exfoliating acids and niacinamide, and may cause some initial skin purging. Look for some texture, bumps, and/or whiteheads. This should not involve any irritation, inflammation, burning, or itchiness.*
See Glossary
X
See Key Ingredients
Full Ingredients
Like Butter—Water, Caprylic/Capric Triglyceride, Cetearyl Alcohol, Niacinamide, Diheptyl Succinate, Squalane, Glyceryl Stearate, Sorbitan Stearate, Capryloyl Glycerin/Sebacic Acid Copolymer, Glycerin, Pentylene Glycol, Shea Butter, Avena Sativa (Oat) Kernel Flour, Cetearyl Glucoside, Hydroxyethyl Acrylate/Sodium Acryloyldimethyl Taurate Copolymer, Evening Primrose Oil, Rheum Palmatum Root Extract, Angelica Polymorpha Sinensis Root Extract, Sodium PCA, Sodium Lactate, Arginine, Aspartic Acid, Serine, Sodium Hyaluronate, Astragalus Membranaceus Extract, Valine, Proline, PCA, Camellia Sinensis Leaf Extract, Ceramide EOP, Hydrogenated Lecithin, Ceramide NS, Ceramide NP, Ceramide AS, Ceramide AP, Cholesterol, Sucrose Distearate, Licorice Root Extract, Propylene Glycol, Threonine, Isoleucine, Turmeric Root Extract, Madecassoside, Palmitic Acid, Glycine, Alanine, Histidine, Xanthan Gum, Stearic Acid, Phenylalanine, Lauroyl Lysine, Phenoxyethanol, Ethylhexylglycerin

Faded—Water, Caprylic/Capric Triglyceride, Niacinamide, Tranexamic Acid, Shea Butter, Glyceral Stearate, Glycerin, Ceteareth-20, Ceteareth-12, Cetearyl Alcohol, Centella Asiatica Leaf Extract, Behenyl Alcohol, Alpha-Arbutin, Jojoba Seed Oil, Zinc Ricinoleate, Azelaic Acid, Glutathione, Kojic Acid Dipalmitate, Dimethylmethoxy Chromanyl Palmitate, Allantoin, Phytic Acid, Squalane, Palm Butter, Glycine, Soybean Sterols, Cetyl Palmitate, Lecithin, Trisodium Ethylenediamine Disuccinate, Sodium Lauroyl Sarcosinate, Licorice Root Extract, Melatonin, Turmeric Root Extract, Sclerotium Gum, Arginine, Cocos Nucifera Oil, Bisabolol, Tetrahydroxypropyl Ethylenediamine, Phenoxyethanol, Ethylhexylglycerin
*FYI: Faded contains exfoliating acids and niacinamide, and may cause some initial skin purging. Look for some texture, bumps, and/or whiteheads. This should not involve any irritation, inflammation, burning, or itchiness.*
See Glossary
X
See Key Ingredients
Full Ingredients
Like Butter—Water, Caprylic/Capric Triglyceride, Cetearyl Alcohol, Niacinamide, Diheptyl Succinate, Squalane, Glyceryl Stearate, Sorbitan Stearate, Capryloyl Glycerin/Sebacic Acid Copolymer, Glycerin, Pentylene Glycol, Shea Butter, Avena Sativa (Oat) Kernel Flour, Cetearyl Glucoside, Hydroxyethyl Acrylate/Sodium Acryloyldimethyl Taurate Copolymer, Evening Primrose Oil, Rheum Palmatum Root Extract, Angelica Polymorpha Sinensis Root Extract, Sodium PCA, Sodium Lactate, Arginine, Aspartic Acid, Serine, Sodium Hyaluronate, Astragalus Membranaceus Extract, Valine, Proline, PCA, Camellia Sinensis Leaf Extract, Ceramide EOP, Hydrogenated Lecithin, Ceramide NS, Ceramide NP, Ceramide AS, Ceramide AP, Cholesterol, Sucrose Distearate, Licorice Root Extract, Propylene Glycol, Threonine, Isoleucine, Turmeric Root Extract, Madecassoside, Palmitic Acid, Glycine, Alanine, Histidine, Xanthan Gum, Stearic Acid, Phenylalanine, Lauroyl Lysine, Phenoxyethanol, Ethylhexylglycerin

Faded—Water, Caprylic/Capric Triglyceride, Niacinamide, Tranexamic Acid, Shea Butter, Glyceral Stearate, Glycerin, Ceteareth-20, Ceteareth-12, Cetearyl Alcohol, Centella Asiatica Leaf Extract, Behenyl Alcohol, Alpha-Arbutin, Jojoba Seed Oil, Zinc Ricinoleate, Azelaic Acid, Glutathione, Kojic Acid Dipalmitate, Dimethylmethoxy Chromanyl Palmitate, Allantoin, Phytic Acid, Squalane, Palm Butter, Glycine, Soybean Sterols, Cetyl Palmitate, Lecithin, Trisodium Ethylenediamine Disuccinate, Sodium Lauroyl Sarcosinate, Licorice Root Extract, Melatonin, Turmeric Root Extract, Sclerotium Gum, Arginine, Cocos Nucifera Oil, Bisabolol, Tetrahydroxypropyl Ethylenediamine, Phenoxyethanol, Ethylhexylglycerin
*FYI: Faded contains exfoliating acids and niacinamide, and may cause some initial skin purging. Look for some texture, bumps, and/or whiteheads. This should not involve any irritation, inflammation, burning, or itchiness.*
See Glossary
X
See Key Ingredients
Full Ingredients
Like Butter—Water, Caprylic/Capric Triglyceride, Cetearyl Alcohol, Niacinamide, Diheptyl Succinate, Squalane, Glyceryl Stearate, Sorbitan Stearate, Capryloyl Glycerin/Sebacic Acid Copolymer, Glycerin, Pentylene Glycol, Shea Butter, Avena Sativa (Oat) Kernel Flour, Cetearyl Glucoside, Hydroxyethyl Acrylate/Sodium Acryloyldimethyl Taurate Copolymer, Evening Primrose Oil, Rheum Palmatum Root Extract, Angelica Polymorpha Sinensis Root Extract, Sodium PCA, Sodium Lactate, Arginine, Aspartic Acid, Serine, Sodium Hyaluronate, Astragalus Membranaceus Extract, Valine, Proline, PCA, Camellia Sinensis Leaf Extract, Ceramide EOP, Hydrogenated Lecithin, Ceramide NS, Ceramide NP, Ceramide AS, Ceramide AP, Cholesterol, Sucrose Distearate, Licorice Root Extract, Propylene Glycol, Threonine, Isoleucine, Turmeric Root Extract, Madecassoside, Palmitic Acid, Glycine, Alanine, Histidine, Xanthan Gum, Stearic Acid, Phenylalanine, Lauroyl Lysine, Phenoxyethanol, Ethylhexylglycerin

Faded—Water, Caprylic/Capric Triglyceride, Niacinamide, Tranexamic Acid, Shea Butter, Glyceral Stearate, Glycerin, Ceteareth-20, Ceteareth-12, Cetearyl Alcohol, Centella Asiatica Leaf Extract, Behenyl Alcohol, Alpha-Arbutin, Jojoba Seed Oil, Zinc Ricinoleate, Azelaic Acid, Glutathione, Kojic Acid Dipalmitate, Dimethylmethoxy Chromanyl Palmitate, Allantoin, Phytic Acid, Squalane, Palm Butter, Glycine, Soybean Sterols, Cetyl Palmitate, Lecithin, Trisodium Ethylenediamine Disuccinate, Sodium Lauroyl Sarcosinate, Licorice Root Extract, Melatonin, Turmeric Root Extract, Sclerotium Gum, Arginine, Cocos Nucifera Oil, Bisabolol, Tetrahydroxypropyl Ethylenediamine, Phenoxyethanol, Ethylhexylglycerin
*FYI: Faded contains exfoliating acids and niacinamide, and may cause some initial skin purging. Look for some texture, bumps, and/or whiteheads. This should not involve any irritation, inflammation, burning, or itchiness.*
See Glossary
X
See Key Ingredients
---
1
Like Butter—To mask: Apply a thin, even layer onto cleansed, damp skin. Leave on for a minimum of 20 minutes then wipe off

To use as an overnight moisturizing mask: Apply a thin, even layer onto cleansed, damp skin. Leave on overnight then wipe off. Applying too much causes this mask to pill.
2
Faded—Apply a thin, even layer onto cleansed, dry skin before moisturizing. Gently massage into skin until serum has been absorbed. Start 1x a week and slowly work your way up to daily use. Use sun protection during the day, and moisturize well when using.
---
Animal Testing
Dye
Fragrance
---
The Duo is recyclable from our aluminum tubes all the way to our boxes.
We don't recommend using Faded in the same routine as other exfoliating AHAs, BHAs, retinols, and Tretinoin!
Faded contains tranexamic acid, which has been clinically-proven to help manage melasma!
Faded gets its smell from Glutathione, an ingredient that is really effective at reducing the appearance of discoloration in weeks. Glutathione has a cysteine chain that causes it to have a sulfur like smell.
Faded is a treatment serum and has a gel-like consistency. This means it should be used after cleansing and toning, and before moisturizing. It should be used after thinner serums and treatments.
You can either spot-treat or use Faded all over your face it's up to you!
Yes, Faded is safe for pregnant woman, but we recommend consulting with your doctor.
Like Butter is not gluten-free. Like Butter contains colloidal oatmeal.
Everyone's skin is different, but we included only non-comodogenic oils and ingredients. We always recommend that you patch test and work up slowly to regular use whenever trying a new product to see how your skin adjusts and reacts!
Like Butter can be used either as a face mask, or as a moisturizer. If using Like Butter as a face mask, we recommend slathering it on after cleansing, and before any treatments, serums, and moisturizer. If using Like Butter as a moisturizer, it's best to apply it after all treatments and serums, in a thin layer on the skin.
Both Faded & Like Butter have a shelf like of 9 months opened & 18 months unopened!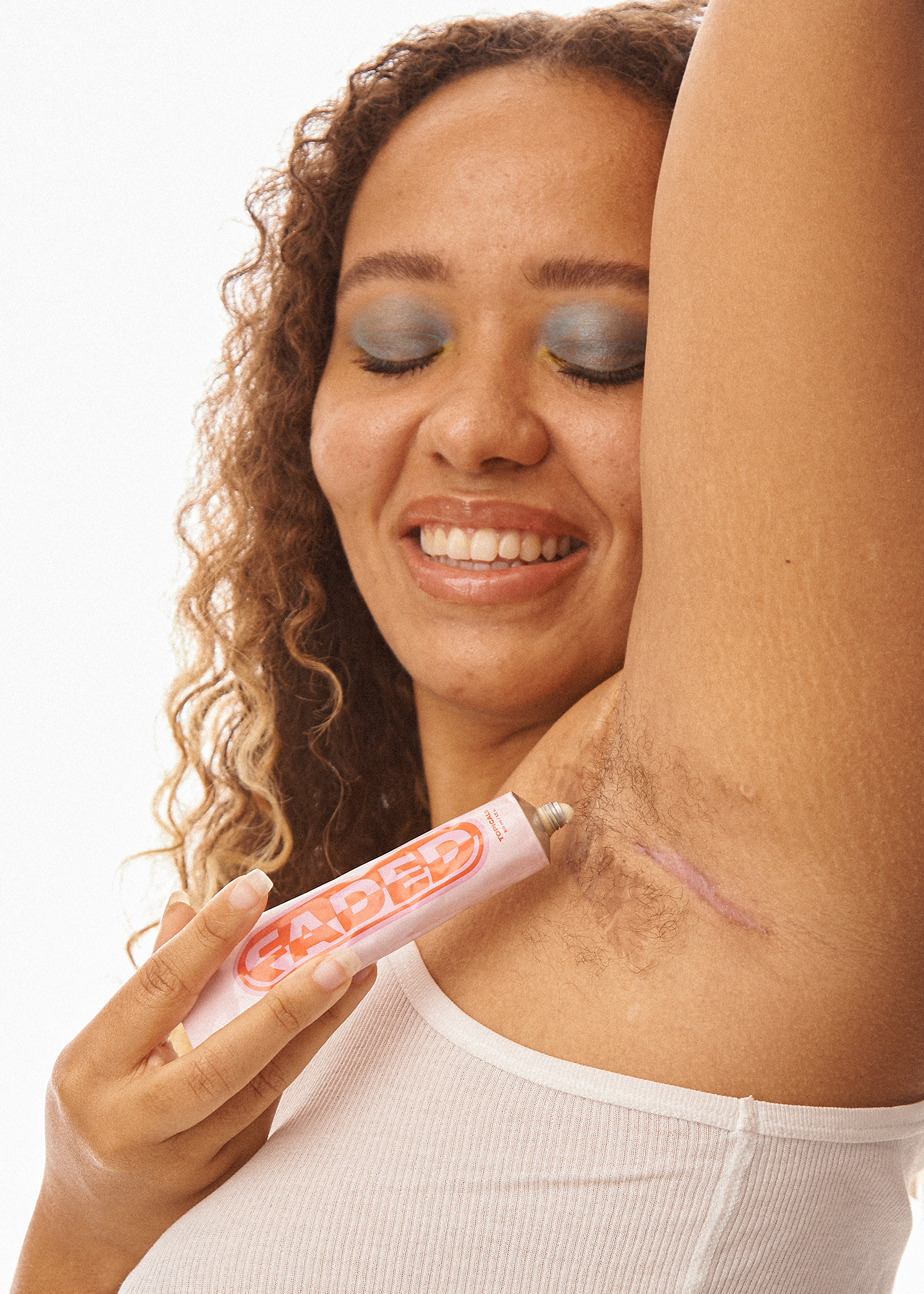 "I have been prescribed tons of products from the dermatologist and nothing worked. Then, I tried faded and like butter and everything has drastically improved. I've been using the duo for about a month and my skin is glowing."
Gabrielle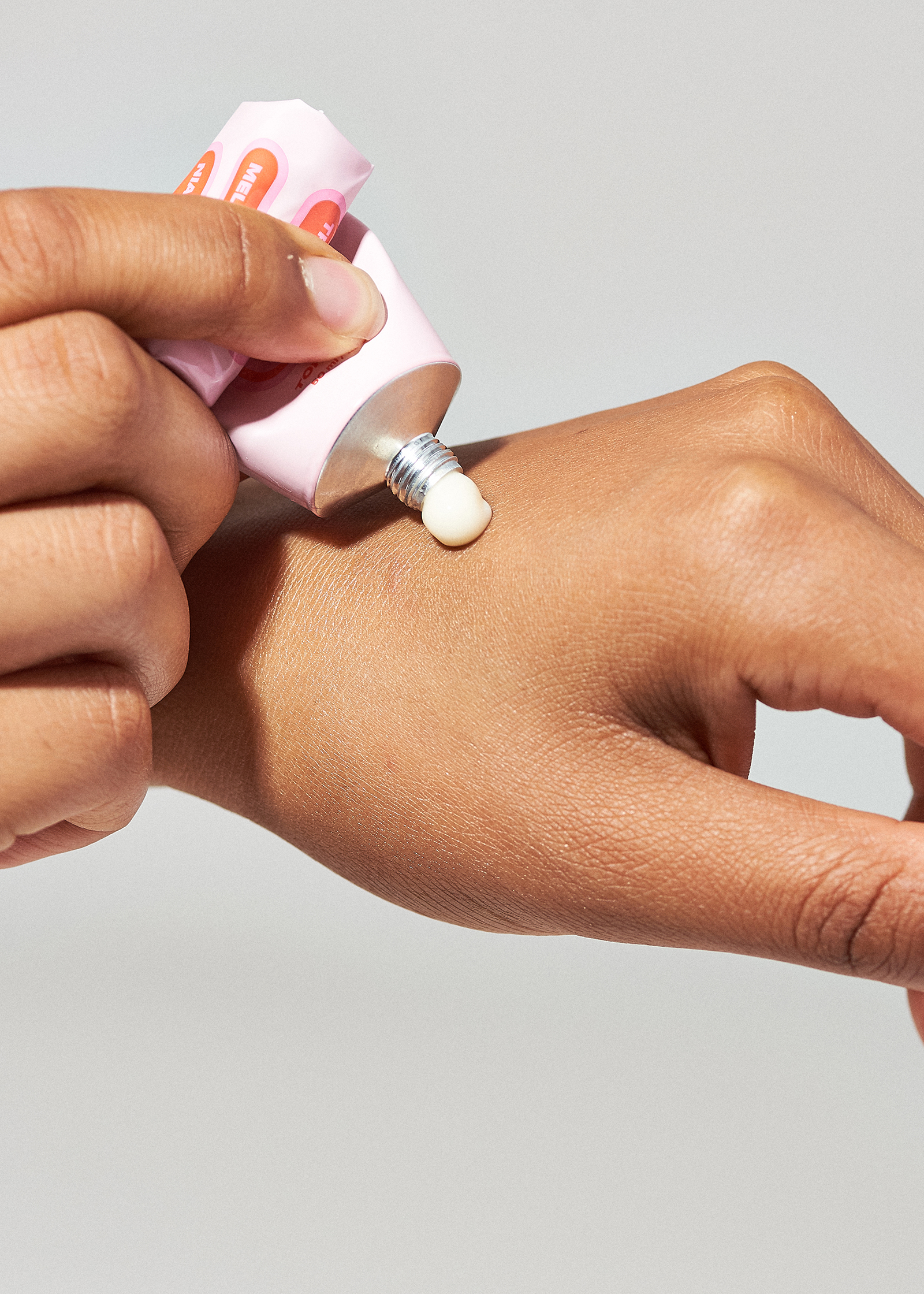 "Love both of these products! Faded works SO well but without being too harsh."
Adri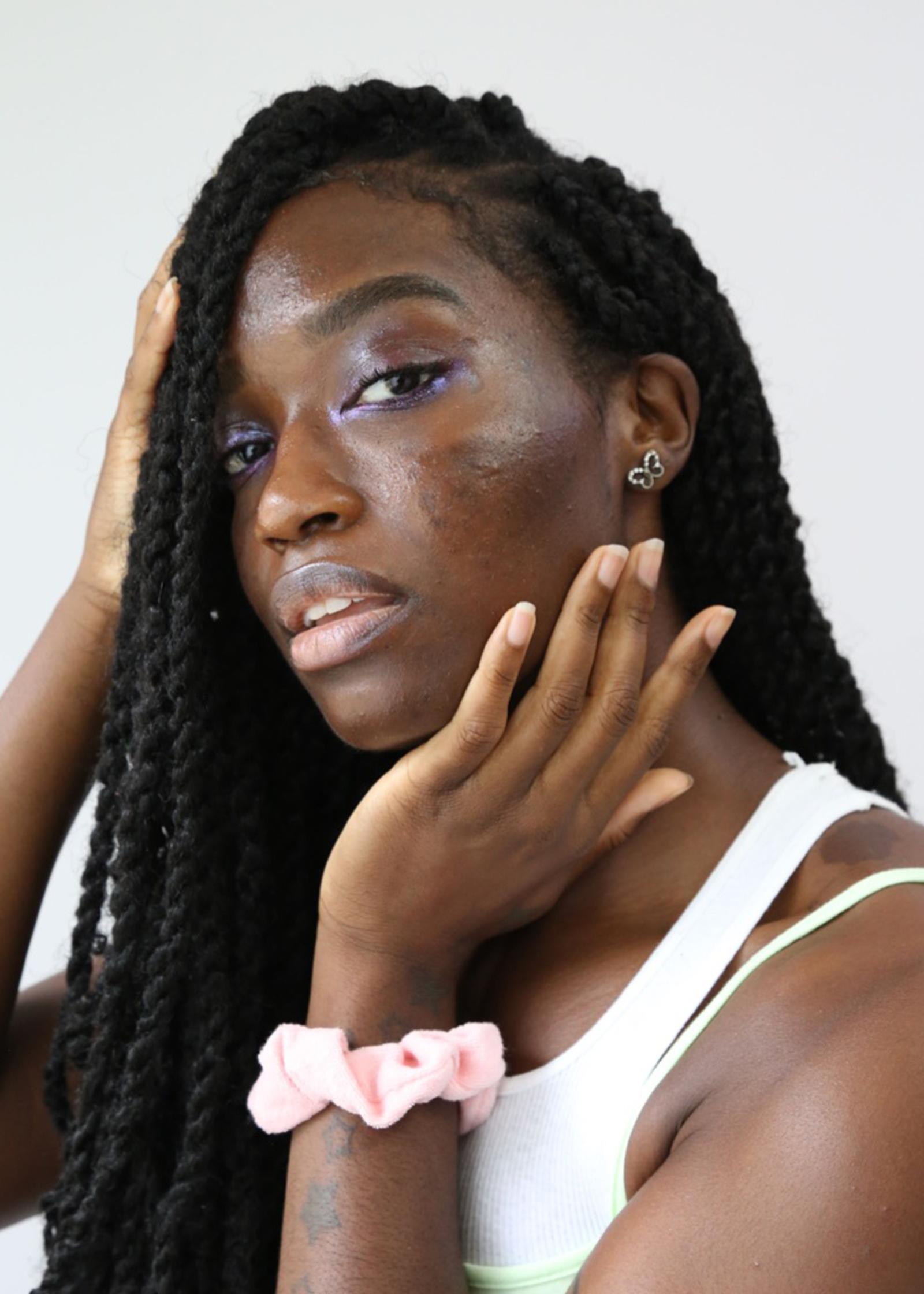 "I have struggled with cystic acne, scarring, discoloration, eczema, and skin so oily that it runs into my eyes since I was 12. Duo reminded me of what it was like to have clear, comfortable skin."
Anna
Customer Reviews
Write a Review
Ask a Question
01/02/2022
Edo

United States
Acne scars, where?
This duo set is perfect, I have really bad hormonal acne. After using these products for a bit, I can already tell a different in my skin. :)
12/19/2021
Rachel

United States
Love love love
So this is my second around time using "Faded" first time using "Like Butter" but I can definitely say I love this Duo! Can't wait for the full results a few months from now :).
12/13/2021
Rebecca

United States
LIFECHANGING!
This product is everything. You have to try it to believe it.
12/12/2021
Judy A.

United States
Faded Cream
First I order duo "faded cream and spray" I never received it, customer service was great I got refunded. Then I ordered two faded cream it's been about 4 weeks and I can already see results I mostly use it on my back I'm definitely going to be ordering again.
11/24/2021
Sarah C.

United States
Amazing
Awesome. I ordered the duo and was sent two of the like butter instead of one of each. I notified the company via email and they sent me a faded right away. I have been using both religiously since, and I love them the faded has really worked on clearing and evening out my skin, while the like butter is so moisturizing and soothing. I love them and can honestly say I will continue to order and use them due to the fabulous results and wonderful customer service. I hope this is available when I need to order again!